The World Food Programme explains that 66 million primary school-age children attend classes hungry across the developing world, with 23 million in Africa alone.
According to the World Health Organization and UNICEF, roughly 100 million children in developing countries are underweight and over 150 million are malnourished.
But the worst thing to hear is that poor nutrition causes nearly half (45%) of deaths in children under 5. That's 3.1 million children each year. The Lancet, 2013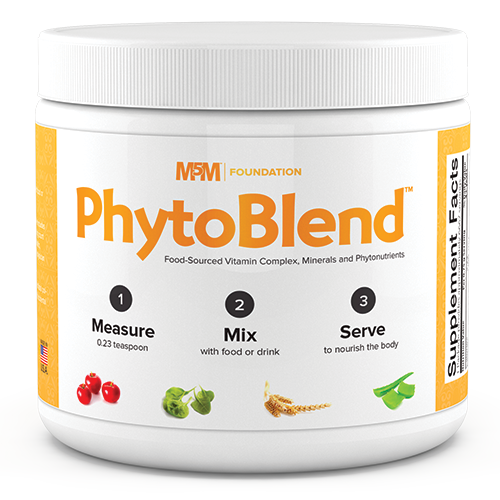 Good nutrition is essential for maintaining health at any age and it is critically important for children under the age of five. Health problems in adulthood can be the consequence of an unhealthy and deficient diet in childhood. PhytoBlend powder is designed to bolster the nutritious value of the food that children need. And, its powder form makes it easy for a Caregiver to mix into everyday meals.
Our goal with PhytoBlend powder is to introduce proper nutritional support through all-natural, real-food supplementation that can be integrated into a regular diet. Simply giving children more food, or the wrong kind of food, is not the answer. The M5M Foundation wants to ensure that children are getting the best variety of nutrients through a constant and reliable source — PhytoBlend powder.

Characteristics of PhytoBlend powder
The vitamin and mineral blends and phytonutrients in PhytoBlend powder are synthetic free and come from natural plant sources
The vitamins and minerals in Phytoblend powder help protect against nutritional deficiencies
PhytoBlend powder helps promote and maintain good health and vitality
PhytoBlend powder is a product suitable for vegetarians. None of the ingredients in this formula are obtained from animal sources
Ease of Use
Its powder form makes it easy to use
It can be added to food easily so children who are averse to taking tablets and capsules can take the supplement without even noticing it
This will help parents or caregivers, especially in poor areas, provide the nutritious meal that they cannot provide otherwise due to a lack of resources
Positive effects in thousands of children have been observed in feeding centers that received the PhytoBlend powder
Sign up to keep up-to-date with M5M Foundation!